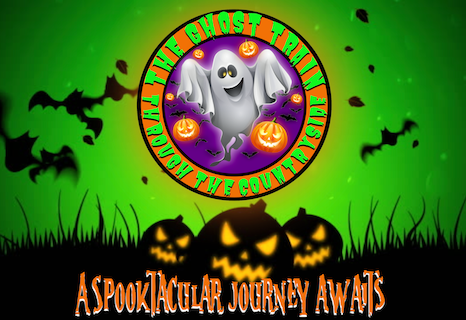 Many years ago a dark spell was cast across the Ecclesbourne Valley, making it become overgrown and free of all trains. But of course, you already know that part!
What is less known but arguably more legendary is a group of friends known as the "The Spooky Society". Once a year, every year, these monsters would gather in a celebration of Halloween. They would tell stories of their past, sing songs and celebrate everything spooky. That is until one year when the party was interrupted.
The monster heard a large roar coming through the trees. They ran in fear of what kind of monster was coming after them. It was big. Green. And....full of humans. The monsters watched and realised that a bigger monster hadn't in fact come to get them but rather the trains had returned. This made the monsters worried that the valley was no longer safe for them. However, as a gesture of goodwill, the railway offered to be a safe space for them by running a private train each year just for them. Some of the more scary monsters hated this idea. They hated humans and trains.  The nicer monsters still took the railway up on its offer.
This year however is going to be a bit different. You see our countryside friends, Mr tickets and Prez are scared of all things spooky so they have taken a holiday. But who could possibly run this train? Maybe the person who made this valley a safe space for these monsters to begin with? Yes, thats right! The dark fairy herself, Wyverness. Can Wyverness finally find a way to be good and help this Halloween gathering go smoothly? Or will ghosts of the railway's past return and pull Wyverness further into the darkness.
What's included?
From the creators of our sell-out Christmas experience and Legendary summer show, comes our mystical new Halloween-themed theatrical production through the darkness! A new performance designed in 2021.
Heritage railcar ride from Wirksworth in to the darkness (approx 5 miles) and back
Open style seating so you can see all the action
Experience the atmosphere from the moment you board the train to the moment you get off. Join in with the spooktacular characters as they perform, sing and entertain throughout the journey telling our story
A Halloween-themed goodie bag for every child
Interact with the characters as they move up and down the train
Show runtime including train ride approx 1 hour
The Station Cafe at Wirksworth will be open for the sale of refreshments and snacks for you to take with you.
We encourage everyone to get into the spirit of the event and dress up. Groups in fancy dress receive 10% off in the Station Cafe.
Ticketing
You will receive a confirmation e-mail at the time of booking
Tickets are sold individually for this event or you can grab a family ticket
Adults are priced at £15.00 each, children £10.00 each or a family of two adults and two children priced at £45.00.
Whilst this is a family show, we recommend children are 5 years of age or over
The train is open-style inside and is not separated into compartments
Please familiarise yourselves with our Cancellation Policy for this event below.
Please note: Customers using Microsoft email addresses (e.g. Hotmail, Live etc) may have our confirmation email erroneously categorised as spam. Please check your spam folder if you do not receive a separate confirmation email from our system after a few minutes of receiving a payment receipt email from Worldpay.
Cancellation Policy & Other Info
The railway is keeping a continuous eye on the ever-changing Coronavirus guidelines. The event takes places inside an open-style coach and passengers can sit anywhere on the train. You may be sat near to other passengers.
However, we acknowledge that circumstances out of our control may alter arrangements at short notice. There are no Government Coronavirus restrictions at the time of going on sale, however the event may need to be altered should restrictions be reintroduced.
In the event of the railway being required to cancel the performance/trains due to restrictions in relation to Coronavirus, the railway will endeavour to offer those booked the chance to use their booking as credit towards another event in the future or a refund.
Should you be required to stay at home due to exhibiting symptoms of COVID-19, then please contact us as soon as possible to make arrangements either to move to an alternative show if capacity and isolation period allow. If you let us know more than a full business day before your booked performance is due to start, we will endeavour to provide either e-vouchers or a refund. If you let us know you will not be attending on the day of the performance or afterwards then we will only be able to offer e-vouchers as provisions will have been made ( tickets etc) for your booking.
We begin to prepare for your arrival a full business day before your booking, sorting your tickets etc and therefore changes within this time may not always be able to be accommodated.