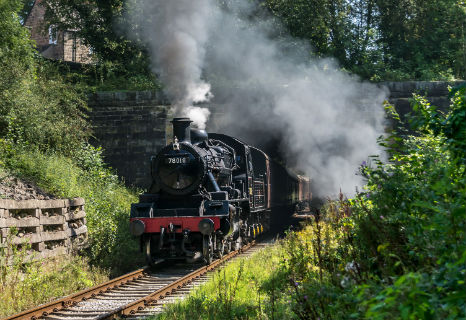 Timetable
Trains normally run to Ravenstor Station on special event days only. Check out the timetable to see what is running and when.
Ravenstor Station is the most northerly point of the line, situated just half a mile away from Wirksworth Station at the summit of a 1 in 27 incline. Upon arrival it could be mistaken that you are in the middle of nowhere! In fact, you are just a few minutes away from many of the tourist attractions associated with the High Peak.
Around the Station
There are many places to visit around Ravenstor Station and indeed one could spend a whole day visiting all of them!
If you are planning a day in the Peak District why not travel from Duffield to Wirksworth by train and hop onto our Ravenstor shuttle. Alternatively, you could park at Wirksworth Station and ride up instead.
Follow waymarkings from the station to visit:
National Stone Centre
Derbyshire Eco Centre
Black Rocks
Middleton Top Engine House
The High Peak Trail
Steeple Grange Light Railway
Did you know...?
The line north of Wirksworth to the site which is now Ravenstor station was built to serve the many surrounding quarries. The line never carried passengers originally but in September 2005, the Ecclesbourne Valley Railway opened a small station here, creating a brand new passenger railway!