A Taste of Faulty Towers
Theatrical Dining Experience
Saturday 29th April - 13:00 Matinee and 18:00 Evening
Saturday 9th September - 13:00 Matinee and 18:00 Evening
- 'Immersive theatre at its startling best' ★★★★★ Best of Theatre, London West End 2019.    - 'Fantastic!' ★★★★★ What's on Stage.  
  - 'A two-hour eat, drink and laugh sensation' ★★★★★ The Daily Telegraph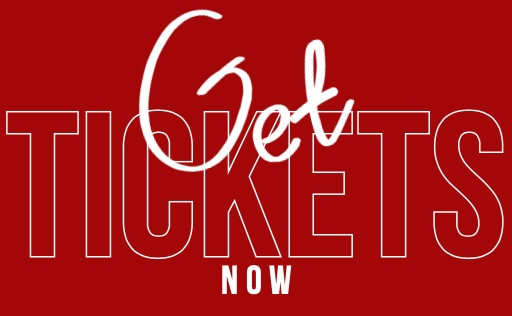 Interactive Theatre International presents:
Faulty Towers The Dining Experience
- Straight from London's West End via the legendary Sydney Opera House, this international sensation is now coming to Ecclesbourne Valley Railway in August and September 2022. Officially the world's most sought after tribute to the BBC sitcom, Faulty Towers The Dining Experience is simply unmissable – and 'outrageously funny' (BroadwayBaby)! 
Become part of the action as Basil, Sybil and Manuel serve up mayhem on a plate alongside a 3-course meal and two hours of non-stop laughter. Expect nothing short of guaranteed fun and a brilliant night out as you climb inside the BBC's iconic TV show and experience it from the inside out… With over 70% improvised, this is the completely immersive and highly interactive comedy spectacular where anything can happen… and usually does!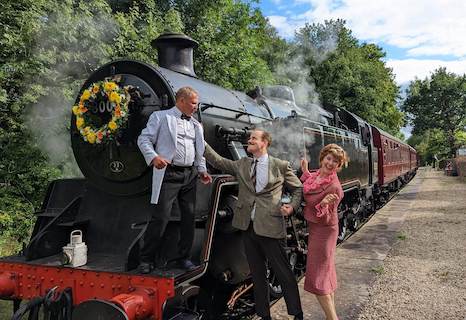 EXPERIENCE THE WORLD'S ♯1 EXPERIENCE!
Australia born in 1997, Faulty Towers The Dining Experience has been receiving critical and audience acclaim ever since. It's appeared in 41 countries over the years, and tours constantly in Australia, Europe, Scandinavia and Asia. It also returns for extended seasons every year to Edinburgh Fringe, Adelaide Fringe, and Melbourne International Comedy Festival, and has an ongoing residency in London's West End. And having recently sold its millionth ticket, it's clear that this is the most successful interactive comedy show of its kind.
- 'Absolute genius!' ★★★★★ The Break A Leggers, London West End
- 'Deliciously entertaining' ★★★★★ What's on London
- 'For a good dinner and an even better show – this one is a no brainer! It is a fantastic concept executed to perfection, and we can't recommend this enough. It is two straight hours of side-splitting laughter guaranteed.' ★★★★★ Scottish Field, Edinburgh Fringe 2019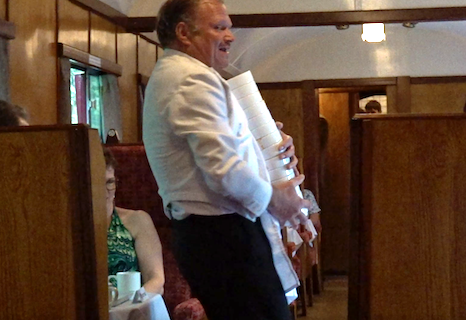 Immersive Theatrical Dining Experience
What is included?
Five-star immersive theatrical performance specially adapted to take place on the train from the stage show
Steam train journey between Wirksworth and Duffield
Three course meal during the journey (see below for menu)
Ticketing
Table for Two - £160.00 for two persons (£80.00 each)
Table for Four - £320.00 for four persons (£80.00 each)
Table for Three (very limited number) - £240.00 for three persons (£80.00 each)
Running Order
Guests gather at your chosen booking time in the licensed bar Apollo at Wirksworth Station where pre-show drinks will be available to purchase.
The show will begin at the station before Basil, Cybil and Manuel help guests to their table on board the train
The meal is served during the journey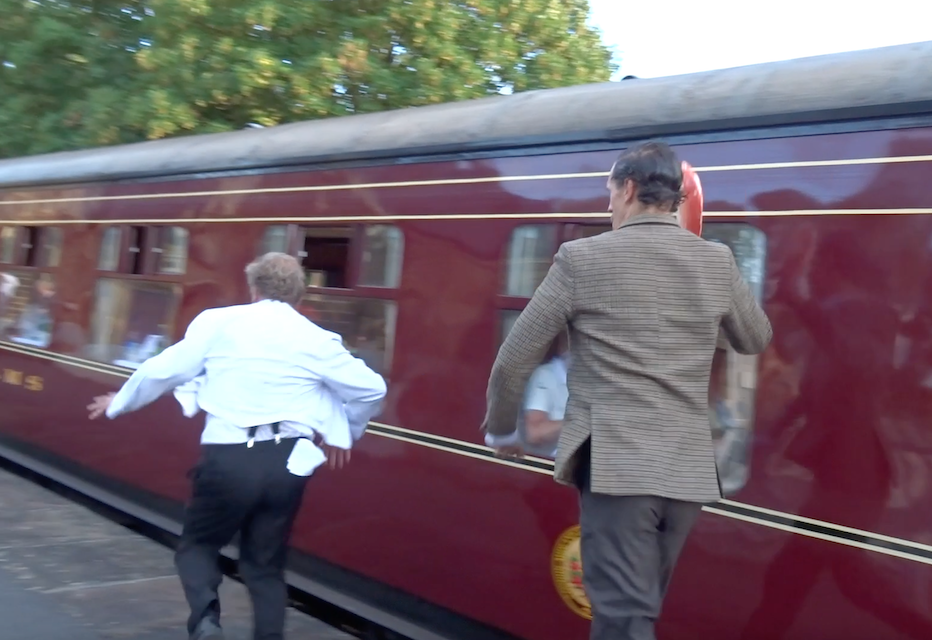 Menu
Starter
Homemade tomato and basil soup with crusty bread roll
Main
Honey garlic chicken with new potatoes and seasonal vegetables
~or~
Carrot Wellington with spiced marmalade, new potatoes and season vegetables (v, ve)
Dessert
Belgian chocolate torte with fresh cream
followed by tea or coffee and after dinner mints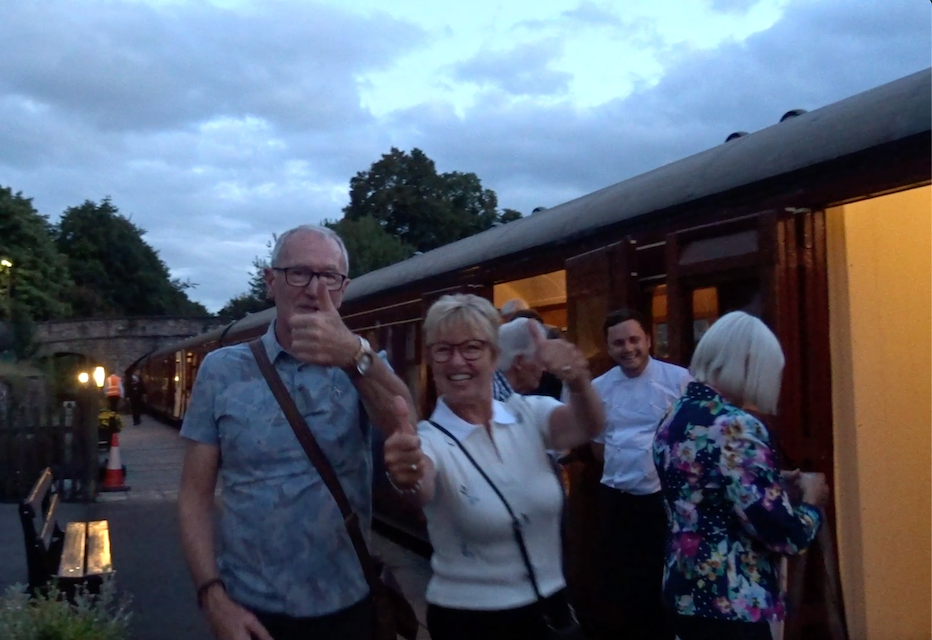 Further Information
Experience starts at and returns to Wirksworth Station
Tickets are sold in tables for two, tables for three or tables for four.
We can cater for vegetarian, vegan and gluten free dietary requirements. Please select at the time of booking.
Faulty Towers The Dining Experience is an affectionate homage to Fawlty Towers, the BBC TV series written by John Cleese and Connie Booth; their original TV scripts are not used in Faulty Towers The Dining Experience. Faulty Towers The Dining Experience uses its own original script and format.
Copyright Interactive Theatre International 2020 - www.faultytowersdining.com