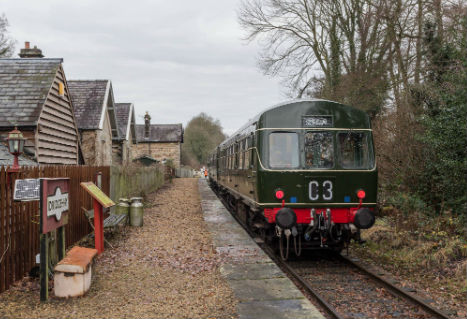 The last station was...
Idridgehay! A country halt ideal for those who like walking.
1.5 miles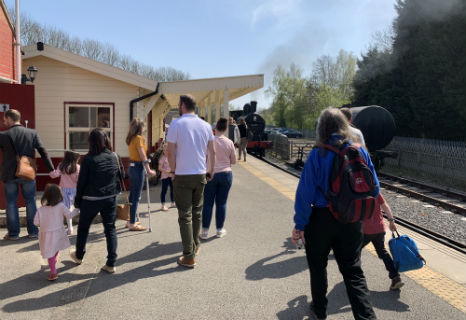 The next station is...
Duffield! Our interchange with main line rail services and southern terminus.
3.5 miles
Shottle Station is in the hamlet of Cower's Lane and is closer to the village of Turnditch than it is to the village of Shottle! The station is perfect for those who are walking the Ecclesbourne Way or fancying a carvery in the nearby Railway Inn public house.
Passing Loop
On busy days (when two trains are in operation on the line), the trains will pass here. Currently the platform in the Duffield to Wirksworth direction is under construction and is not in operation. Therefore you can only join or leave the train in the Wirksworth to Duffield direction on these dates.
The Station Building
The original station building has been beautifully preserved by Peak Oil. However, as the building is private, passengers are kindly asked to admire the building from the platform and not distract their staff whilst they are working.
Access to the Station
Access to the platform is via a step entrance off the A517 Belper - Ashbourne Road, near to the cross-roads with the B5023. Sorry, there is no step free access to the station at the moment.
There is also no parking at the station.
Nearby
Shottle Station is near to the village of Turnditch which hosts a number of public houses including The Tiger and The Cross Keys. Also within easy walking distance is The Railway Inn public house and restaurant who offer an excellent carvery with 10% off if you show your ticket for the day.
Did you know...?
The station opened at the same time as all of the others on the line in 1867 as Cower's Lane. The name was changed to Shottle on request of the owner of nearby Shottle Hall. At its peak in the 1920s, Shottle Station handled about 12,000 passengers a year, and over 1,000 tons of minerals and goods such as coal, coke and limestone, much of the coal being sent to Ashbourne. Grain, beet pulp and agricultural fertilizer were also handled. Regular passenger services ceased in 1947, but the station continued in use for excursions and special passenger trains, as well as for minerals and goods until 1964, when the service finally ended. The station building and cottages are private.