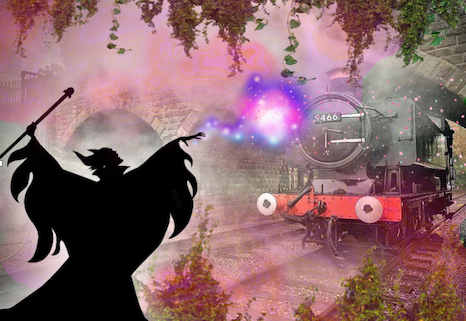 A spellbinding trip awaits....
The River Ecclesbourne is a river like no other. For years it has been the source of all the magic in the area. Over time heroes and legends would visit the river to sample its magic for themselves. As time went by a railway was built alongside the river and this angered a fairy known as Wyverness. She felt that the railway would destroy the magic forever so much so that one night, some 30 years ago, she placed a spell on the line. It quickly became overgrown and no trains were able to make it down the line. That is until ten years ago when, at last, the spell was broken and trains could return to this magical valley 
Now it is ten years since the spell ran out and there is a party going on at the railway to celebrate. Everyone is excited to be commemorating the tenth anniversary of the spell wearing off. Mr Tickets has been making a guest list like no other, planning a very special train ride, one that would be full of legends, heroes and of course all of you . He is inviting all of his legendary friends that live and explore the enchanted land around the railway.
Except for one… Wyverness The Fairy, who almost destroyed the railway all those years ago. As soon as she heard that she hadn't been invited on board this special train she decided to try and do all that she could to derail the party.
Join us as we follow the magic river and try and help Mr Tickets summon the magic needed to stop Wyverness and show her the error of her ways.
What's included?
From the creators of the sell-out Christmas experience comes our magical new summer theatrical production on board our steam train! A new performance designed in 2021.
Steam train ride from Wirksworth along the magical valley (approx 9 miles) and back
Private compartment for your family seating up to 6 passengers
Experience the magic from the moment you board the train to the moment you get off. Join in with the mystical characters as they dance, sing and entertain throughout the journey telling our story
He's back! Look out for Mr Tickets and the Woodland Puppets
A goodie bag, party treat and a juice drink for every child, with Adults receiving a can of fruit drink
Interact with the characters as they pass the door of every compartment
Show runtime including train ride approx 1 hour 30 mins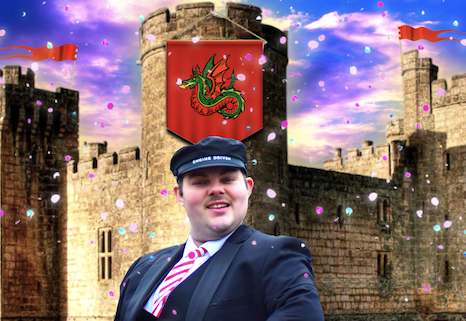 Ticketing
You will receive a confirmation e-mail at the time of booking and your Special Ticket will be available for collection as the show begins.
Tickets are sold per compartment, which can seat up to six passengers
Prices range from £55.00 to £75.00 per compartment (not per person) according to date, regardless of occupancy
A very limited number of 1st Class compartments are available on each train priced at £65.00 to £85.00 per compartment (not per person) according to date. First Class compartments feature upgraded seat comfort.
Occupancy of compartment must be chosen upon booking (adult, child or seat vacant)
Parties of more than 6 passengers will require a second compartment. There are no exceptions.
Please familiarise yourselves with our Cancellation Policy for this event below.
Please note: Customers using Microsoft email addresses (e.g. Hotmail, Live etc) may have our confirmation email erroneously categorised as spam. Please check your spam folder if you do not receive a separate confirmation email from our system after a few minutes of receiving a payment receipt email from Worldpay.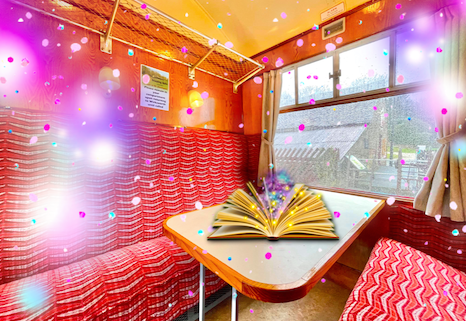 Designed with COVID-19 guidelines in mind
According to the Government roadmap set out in February 2021, this show should be outside the scope of Coronavirus restrictions however it has been designed to take them into consideration so that they can be employed should they need to be.
Enjoy a private compartment on board the train for your household/support bubble, perfect for Social Distancing if it is required. At the time of writing, face coverings are recommended outside but are not required on board the train when inside your private compartment.
Characters will not enter your compartment if Social Distancing is still required.
Character costumes will have PPE for the actors built in
Characters from the show & railway staff will control the boarding and disembarking at the end to help with Social Distancing if it necessary to do so. The platform will have 2m markings to help you in this instance
Upon arrival at Duffield, passengers do not leave the train.
Use the loo before you queue! Toilets are available at Wirksworth Station. Let one of the Porters know if you need to use the loo on board the train
Enhanced train cleaning between performances
These measures will be updated should Government guidance alter prior to the performance.
If a member of your group is exhibiting symptoms of COVID-19, please do not travel to the railway and review our Cancellation Policy below.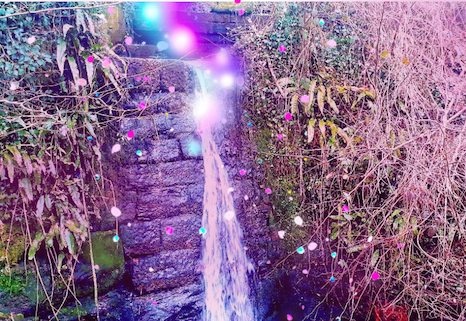 Cancellation Policy
The railway is keeping a continuous eye on the ever-changing Coronavirus guidelines and the show has been designed to meet some of the strictest tier regulations as they are at the time of design (March 2021). However, we acknowledge that circumstances out of our control may alter arrangements at short notice. The Government roadmap set out in February indicates that this show should be outside the scope of the Coronavirus restrictions, however the show takes them into consideration should they be required.
In the event of the railway being required to cancel the performance/trains due to restrictions in relation to Coronavirus, the railway will endeavour to offer those booked the chance to move to an alternative show planned for later in the year or e-vouchers in the first instance, followed by a full refund. The railway will contact you in this event.
Should you be required to stay at home due to exhibiting symptoms of COVID-19, then please contact us as soon as possible to make arrangements either to move to an alternative show if capacity and isolation period allow. If you let us know more than a full business day before your booked performance is due to start, we will endeavour to provide either e-vouchers or a refund. If you let us know you will not be attending on the day of the performance or afterwards then we will only be able to offer e-vouchers as provisions will have been made ( tickets, drinks etc) for your booking.
We begin to prepare for your arrival a full business day before your booking, sorting your tickets etc and therefore changes within this time may not always be able to be accommodated.