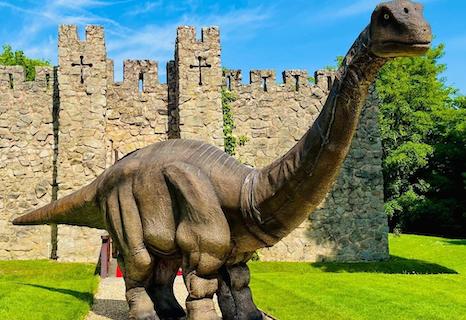 Dinosaurs at Easter
66 million years ago, Dinosaurs roamed this earth. Now, with the help of Dinosaur Experiences - they're back! With the help of their special rangers, you can get up close and interact with a selection of life-like dinosaurs from giant to tiny at Wirksworth Station.
A variety of dinosaurs, large and small will be appearing throughout the day between 10:00 and 16:00. Keep an eye on this page or our Facebook page for updates as the event nears.
We'll be operating both steam and heritage diesel railcar trains to a regular special timetable through the valley. Could there have been dinosaurs roam this countryside long long ago?
Image depicts one of their large dinosaurs in another location.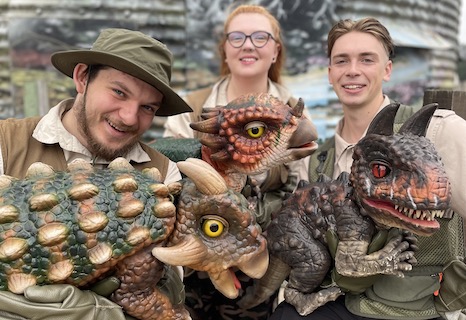 Tickets
Ticketing
Special ticketing is in place for this event which gives all day unlimited travel on both our steam and heritage diesel railcar trains plus full access to the Dinosaur Experiences.
KIDS GO FREE when accompanied by two adults with our Family Day Ticket - £50.00 online in advance (£60.00 on the day)
Adult Day Ticket - £25.00 online in advance (£30.00 on the day)
Concession Day Ticket - £22.50 online in advance (£27.50 on the day)
Child Day Ticket - £15.00 online in advance (£17.50 on the day)
A family of two adults and two children can purchase a Platform Only ticket from the Ticket Office on the day to visit the Dinosaur Experiences at the station for £10.00 without travelling, subject to visitor numbers.
Visitors for a valid Easter Sunday Countryman ticket for Sunday 9th April do not need to purchase an additional ticket to visit the experience.
Tickets are available online in advance up until midnight the day before your chosen date to visit. Small booking fee payable online.
The Apollo - Bar at Wirksworth Station
The Apollo Bar at Wirksworth Station will be open from 11:00 for a service of local real ales, draught lagers, ciders, wines and spirits.
The Station Cafe and Platform Kiosk
The Station Cafe at Wirksworth Station and Platform Kiosk will be open for hot and cold food, drinks, snacks and cakes.
Timetable