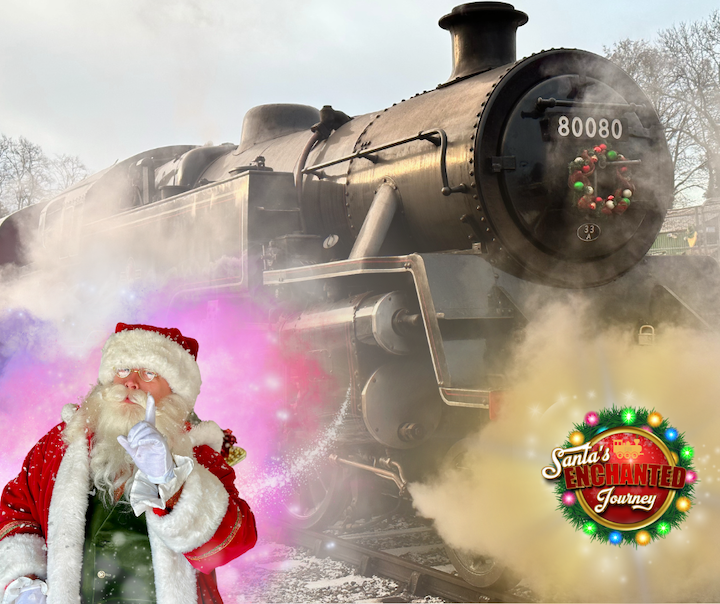 All aboard Santa's Enchanted Journey – a festive steam ride for all the family to enjoy!
We're so excited for Christmas at the Ecclesbourne Valley Railway, what's even more exciting is we've just found a letter from Santa – and we've stuck it below:
To my dearest friends,
Christmas is approaching very, very quickly – and I want to make sure you all have the most magical Christmas possible.
I've enlisted the help of my friends at the Ecclesbourne Valley Railway to spread some Christmas cheer, but I need your help in completing a little to-do list Mrs Claus has left me! I've been so busy getting all of your wonderful gifts made that I've forgotten to complete all of the tasks she's asked me to do to ensure Christmas is ready. If you can help me, that would be most magical.
I've arranged for some of my top, top, TOP Elves to be at the Ecclesbourne Valley Railway across the festive period to help you, but also to make sure that each and every one of you are ready for Christmas.
Don't worry though, I'll make sure I come to see each and every one of you on your enchanted journey!
So don't delay in joining me and my elves on a beautiful steam train for a journey filled with festive cheer, magic, hot chocolate, and warmth.
Love,
Santa Claus x
All passengers receive...
A festive welcome to our beautifully decorated Wirksworth Station platform from our jolly elves
Steam train ride from Wirksworth and return in a seasonally-decorated period carriage
Festive entertainment from Santa's team of elves during the journey
A visit from Santa to your seat who has a present for every child
Hot chocolate and cookies for every passenger on board
Plus...
Children's activity on the platform before you board (optional, small fee payable on the day)
Santa's Shack open on the platform for the purchase of hot drinks, sweeties etc
Ticketing
Standard Class Compartments
Prices range from £75 to £105, inclusive price for up to six passengers according to date, regardless of occupancy. Option to add on two extra individuals to make eight persons in each compartment. Additional occupants £20 per person, maximum of additional two per compartment.
Standard Class Table for Four
Up to four passengers in an open-style interior coach for one inclusive price. Prices range from £50 to £80 for up to four passengers, regardless of occupancy.
Premier Class Tables for Two or Four
Our Premier Class coach features tables for two or up to four passengers in our vintage LMS coach with a beautifully restored wooden interior, open-style interior coach for one inclusive price.
Prices range from £30 to £60 for a table for two or £80 to £120 for a table for up to four passengers, regardless of occupancy.
Luxury hot chocolate for each passenger with whipped cream (sorry, we're not able to cater for dietary requirements with the whipped cream).
We will endeavour, where possible, to put tables of two and four on the same booking across the aisle from each other for larger groups.
First Class Compartments
Featuring upgraded seat comfort compared with standard class, £100 to £140 inclusive price for up to six passengers according to date, regardless of occupancy.
Further information for all classes
Passenger selection must be chosen upon booking (adult, child or seat vacant).
Children 1 and under should be included as part of your passenger count if you wish for them to receive a gift, however it is acceptable to have a maximum of one additional under 1 on the knee per compartment/table. If you are happy for them to not receive a gift from Santa then you do not need to declare that additional under 1 child on the booking, however if you wish for them to receive a gift from Santa then you can add purchase the "Additional Under 1 On Knee" add-on ticket.
Please note that mixed classes/ticket types on the same order may not be seated in the same coach (e.g. table and compartment or standard and first class). We will endeavour to allocate Standard Class Tables of 4, Premier Class Tables of 4 and 2 and compartments of the same class that come through on the same booking together where coach layout and availability allows.
Standard Class compartments can have the option to add up to two additional passengers per compartment to make eight persons, however First Class compartments can seat a maximum of six.
Please try a different class or type of ticket if the system shows Sold Out on your preferred date/time as there may be other types available.
Journey length approx 1hr 15min
Please arrive no later than 15 minutes prior to your booked time (car park DE4 4FB).
Please contact us if you have any special accessibility requirements. Each train contains two wheelchair accessible tables.
You will receive a confirmation e-mail at the time of booking and your special Enchanted Journey tickets will be available for collection when you arrive.
Please familiarise yourselves with our Cancellation Policy for this event.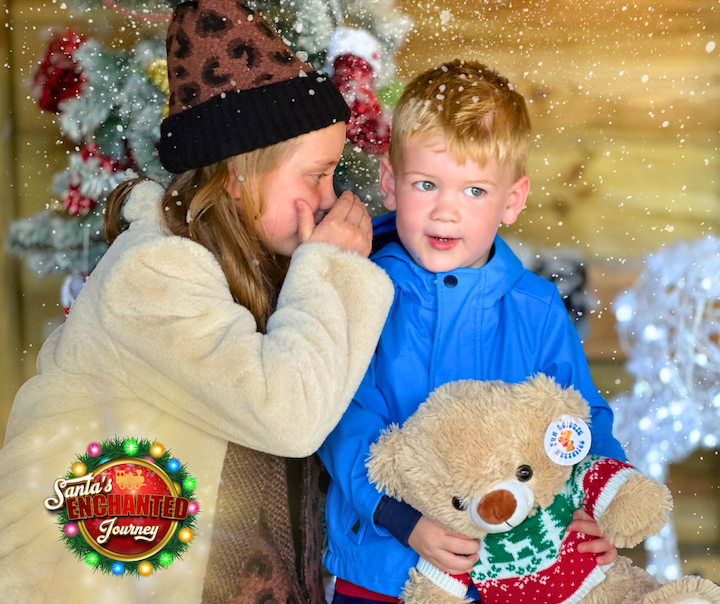 Gingerbread Decorating Kit
Settle in for the ride! Pre-order a gingerbread decorating kit which will be at your seat when you board and enjoy this fun activity during the journey. £5.00 per kit.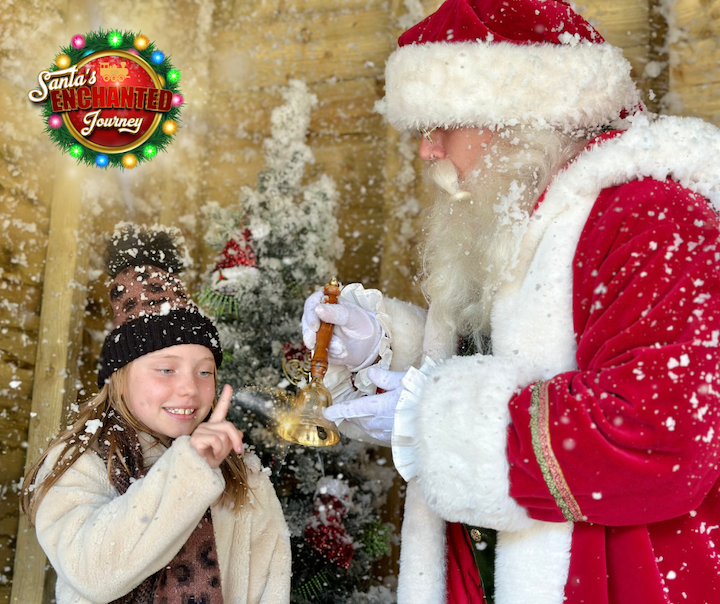 Cancellation Policy
Should you need to cancel or alter your booking, please contact the railway either by telephone or e-mail as soon as possible. For cancellations, a refund will only be offered if your cancellation is more than two full days prior to your visit, else we shall issue a credit voucher. If you wish to move a booking, there may be a difference in price depending on date.
The elves begin to prepare for your arrival at least a full day before your booking and therefore whilst we will endeavour to accommodate changes within this period, we may not be able to service your request.