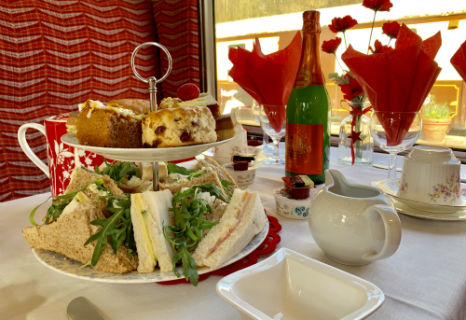 Derbyshire Countryman
Indulge in one of our Derbyshire Countryman on train dining experiences.
Featuring panoramic windows, the beautiful Ryedale Restaurant Car and Observation Saloon are perfect for that special day. The restaurant car and saloon are available on selected dates for private hire. The restaurant car features 12 luxury first class seats and the 'Ryedale Bar' and the Observation Saloon features a lounge at one end with panoramic views of the valley, a board room style layout in the middle and a smaller lounge at the other end.
The Restaurant Car an Saloon are perfect for making your big day extra special! We can tailor your big day to suit your needs. An example wedding reception includes:
Enjoy welcome refreshments on the platform on arrival at Wirksworth at 12:30
Board at 13:20 for champagne and canapés on the return journey to Duffield and back
Stay on board for a luxury afternoon tea or three course meal during a second return trip at 15:15 until 16:50.
Got a big birthday coming up? Hire the Restaurant Car and Saloon for your own private function. We can tailor your meal to your tastes for your journey and the Rydale Bar is available for a selection of alcoholic and soft drinks.
Fancy a meeting with a difference? Looking for a corporate team building day? The Restaurant Car and Saloon feature a board-room style area perfect for meetings and other functions. Our team can look after your catering needs during the journey.
Call our friendly team on 01629 823076 to discuss your hire of the Restaurant Car and Saloon and we can tailor your visit to your needs.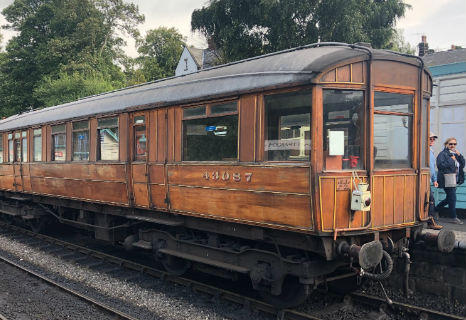 Did you know...?
The Observation Saloon was built in 1909 by the Great Northern Railway. The body is constructed entirely of teak wood and it features large panoramic windows at one end which give stunning views of the valley as you chuff along.